The unique feature of the E-Z SET CORP. installation system is the use of the disposable/recyclable steel lifting bands.
The bands allow the installer to set the modules tight instantly without rolling, notching, or blocking. This saves the installer the crane time spent, the labor spent, and adds to the overall customer satisfaction by setting with precision and accuracy without leaving gaps or causing unnecessary damage to the home or unit.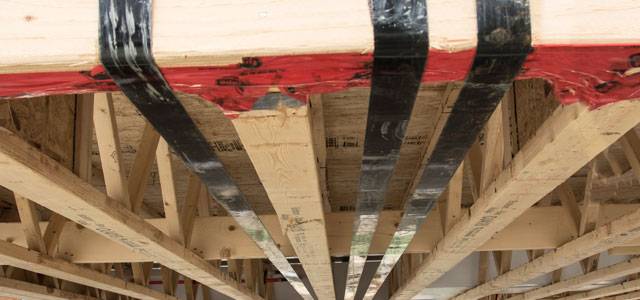 E-Z SET BAND INSTALLATION

A minimum of 2 lifting bands are used per pick point. (10,000 lb capacity in cradle configuration each strap)
All lifting bands are one-time use only.
Standard lifting band lengths are 40 ft. and 50 ft. Custom lengths can be ordered.
By using the two eyes (loops) on each lifting band the installer is able to connect from pick point to pick point in cradling the module for the lift.
Quantity and placement of the lifting bands will require calculations from the installer based on the length and the weight of the modular unit.
Should the installer be lifting a steel framed unit or hud, rubber or carpeted matting may be required at the point of contact.
Once the lift has commenced and the module is then set in place, the crane operator lowers the crane hook to relieve the tension on the steel lifting band. Then each band can be cut under the module or beside the module. This allows the crane operator to simply lift the severed lifting bands from beneath the unit. If trimmed flush they can be left in place. This process results in a precision set and allows the installer to quickly move on to the next modular lift.
"Average installation time per unit: 30 minutes or less. This results in saving a minimum of $600 on labor and crane time per installation."
GET A QUOTE